About Tommy Igoe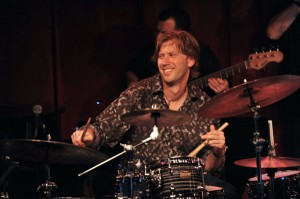 Tommy Igoe is one of the world's most prominent drummers and bandleaders. He began drumming at the age of 2 and has gone on to craft a unique and diverse career, traveling the world with Art Garfunkel, Blood Sweat and Tears, Dave Grusin, Stanley Jordan, and the New York Voices amongst many others others.
For the last six years, his Birdland Big Band has been the most popular weekly music event in New York City, maintaining it's Friday residency at the iconic Birdland Jazz Club. In 1997, he created the drumset book for "The Lion King" on Broadway also serving as principal drummer and conductor. Igoe is dedicated to world-class music education, writing a series of the world's best-selling books and DVD's and is a globally in-demand clinician.His acoustic drum studio, Deep Rhythm Music, serves both as a world-class recording facility and education site for online and private sessions.
He currently lives in San Francisco where his band–comprised of the finest talent on the West Coast— holds court in legendary bay-area venues.