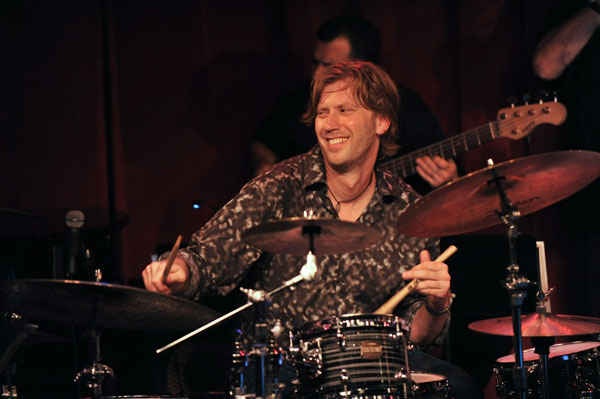 Meet Tommy Igoe
Tommy Igoe is a world-class musician living in San Francisco. He has been long recognized as one of the finest drummers in the world and is the top-selling author in his field with four #1 titles on Amazon.com. He began drumming before the age of 2, started classical piano at 10, won every music competition available to him in High School,  simultaneously winning two High Percussion awards with the legendary Bridgemen Drumlines. In 1997, Tommy wrote the drum set book for Disney's epic Broadway production of the "The Lion King" where he served as principal drummer and conductor. He has played drums on three Grammy award winning recordings and was voted the World's #1 Jazz Drummer in the 2014 Modern Drummer Reader's Poll. He has created two ongoing weekly musical residency at iconic Jazz clubs in New York and San Francisco. His New York band, The Birdland Big Band, is the most popular weekly music event in the city for the last 9 years. His most recent and exciting project is the Tommy Igoe Groove Conspiracy, a 15-piece supergroup from the San Francisco that has quickly become an integral part of the San Francisco cultural landscape. He is currently the President of Deep Rhythm Music, his recording studio, publishing arm, record label and has several endorsement partners.
Testimonials
I first saw Tommy Igoe at the San Francisco Yoshi's. Tommy Igoe and his band created some of the most intense, dynamic, and groovin' music I have ever heard live. I was so inspired to play with the passion that Tommy exudes whenever he plays. It was the greatest musical lesson I could have ever received, and most importantly, I wanted to play as soon as I got home!
Thank You So Much Mr. Igoe.
- Anthony Ty Johnson
I developed chronic, unremitting pain over the past 6 years, and after losing count on how doctors I saw, I finally found help and was diagnosed with Rheumatoid Arthritis. Tommys "Great Hands" DVD saved my drumming. The minute I watched it, it clicked. The "Great Hands" stuff just made clear sense, and it gives you a VISUAL road map on how to progress.
- Stephen Teipe, Percussion Artist
I've had the honor of studying with Tommy in New York. Studying with him has pushed me to a new level of musicianship and ability beyond the drums. A great teacher, a great mentor, and most importantly a great man. I look forward to studying with him again whenever he is back in New York.
- Larry Davis
I saw Tommy Igoe perform live TWICE at Birdland NYC! It should be mandatory for every professional educator to see and listen to the amazing virtuoso and watch him as he performs his miracles.
- Karina Ruby, Athens Greece