Tommy Igoe Big Band
"A jaw-dropping musical event. Completely awesome in every respect!"—A.S.Blog
The Tommy Igoe Big Band has come to the Bay and it is already the most talked about musical event in San Francisco. Experience one of the world's finest drummers leading an elite group of the Bay's greatest musicians in a landmark event that redefines the genre. Musicians from Santana, The Doobie Brothers, Boz Scaggs and Bay-Area legends, Tower of Power are all featured as well as music from Brazil, Cuba, Argentina, Spain and more. If you love music, this is the band that will blow you away!
"Electrifying! Impeccably presented. One for the Ages!" – BeyondChrom
"Sizzling… Remarkable… Something Special" – CS magazine
Meet the Band
Marc Russo (Lead Alto)
Marc Russo began his career playing saxophone in the San Francisco area. In 1979 he joined famed drummer and record producer Narada Michael Walden's group. His association with Walden has led to numerous recordings with many of the world's top stars, including Aretha Franklin, Whitney Houston and Steve Winwood. In 1982 he hooked up with the legendary Tower of Power. During his stay with "Tower" he also toured and recorded with Huey Lewis and the News.
During the '80s Marc was a part of the contemporary jazz group The Yellowjackets. They recorded five albums in seven years, winning two Grammy awards (1986 Best R&B Instrumental performance and 1988 Best Jazz fusion performance).
As a well known session musician, Marc has also recorded and toured with an array of artists from Richard Marx and Dan Fogelberg to Michael Bolton and Lionel Richie.
He has also recorded on many film and commercial projects as a musician and composer (St. Elmo's Fire, Star Trek IV, Another 48 Hours, Oakland A's, Coke, Clorox, Gallo, Geo, Honda. As well as composing and producing original music for the hugely successful computer game series The Sims, Sim City and Spore.
From 1985 – 1996, Marc was a featured performer with Kenny Loggins, and can be heard on many of his recordings, including Leap of Faith, Live at the Grand Canyon and Outside From the Redwoods.
After years of lending his formidable saxophone support to others, Marc recorded, composed, and produced his first solo CD for JVC Records, entitled The Window. Released in 1993, It is a treasury of ten diverse musical visions and is a virtual diary of experiences and moods. Marc is currently writing and doing pre-production for a new CD.
Since 1997 Marc has been a member of the Doobie Brothers
Tom Politzer (Tenor Sax)
Tom Politzer is a world renowned saxophone player, long time member of the legendary soul orchestra Tower Of Power, and a seasoned recording artist.Tom E. Politzer is TOP's lead tenor sax player. Tommy fills that role totally, not only as an outstanding soloist, but also as a part of the five piece Tower of Power horn section.
Born in Detroit and raised in Palo Alto, California, Tom contributes to the band's complex sound with his first tenor sax, alto sax, flute, and clarinet. Tom's musical background and his switch from playing the clarinet to the baritone sax chair (inspired, in part, by Tower of Power's "Squib Cakes"), set the stage for him to become the professional musician he is today. "Being in the band has definitely made me a better musician. It's just something that happens when you're around great musicians. It's like a minor league ball player making it to the majors. Your game just gets better. Plus, I get a lot of creative energy from our fans. Their enthusiasm really feeds me," he says.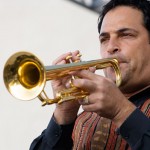 Louis Fasman (Lead Trumpet)
Mr. Fasman grew up in Redwood City, California. He studied the trumpet with Charlie Bubb and Herb Patnoe prior to attending De Anza College in Cupertino and Cal State Univ. L. A.
During his twelve year tenure in the Los Angeles area, he toured The U.S., Canada, Europe, the Far East, and the Caribbean as lead trumpeter with The Al Hirt Big Band, Circus Vargas, The Maynard Ferguson Orchestra, Bill Watrous' Jazz Refuge West, and singer/composer Paul Anka. After returning to the Bay Area in 1991, Mr. Fasman has continued his performing career as a studio musician, recording on motion picture soundtracks, such as "Soapdish," "Spy Kids"; the TV shows "Fame" and the VH-1 Honors with Steve Winwood, Stevie Wonder, James Taylor, and Cheryl Crow. He is currently performing and recording with The Pete Escovedo Latin Jazz Orchestra, Huey Lewis and the News, The E Family Band featuring Sheila E, The Narada Michael Walden Band, Dick Bright's SRO, and Wayne Wallace's Rhythm and Rhyme. He also leads a big band called "Fasmania," along with his wife, drummer/percussionist Kelly Fasman.
Mr. Fasman teaches trumpet for Ingram & Brauns Musik Shoppe, The House of Woodwinds in San Ramon, and at home in Pleasanton, as well as section coaching, master classes, and clinician/ guest artist appearances for various schools and jazz festivals.
Bay Area native, is proud to be a member of the music scene for over 15 years. She completed a B.A. in music performance (2002) and M.A. in music composition (2007) from California State University, East Bay. She has performed with numerous groups including: The Jazz Mafia, Deltron 3030, Lyrics Born, Dave Eshelman's Jazz Garden Big Band, Ray Brown Great Big Band, Dave Brubeck Big Band, Michael Feinstein Big Band, Gladys Knight, Green Day, The Dells, Roy Ayers, The O'Jays, Maza Cote, Marcus Shelby, among many others. She has played for many different theatrical works including: SHN's Broadway productions of A Chorus Line, Annie, White Christmas, as well as numerous Broadway productions over the past eight years with the Contra Costa Musical Theater Company. She has also toured and recorded with her current groups: Jazz Mafia Symphony, The Uptones, Dynamic, The Bay Area Composers Big Band, Realistic Orchestra, and Brass Mafia.
Recent composing/arranging projects have included: Deltron 3030 Live Orchestra, Roy Ayers with the Jazz Mafia Symphony, Jazz Mafia Symphony (Emperor Norton Suite), Lyrics Born (Tribute to Curtis Mayfield & James Brown), Fay Carol with Adams Middle School, Zoe Presley with the Bay Area Composers Big Band. Her big band compositions have been recorded and performed by schools such as CSU Fresno, Diablo Valley College, Los Medanos College, Adam's Middle School, and CSU East Bay. She was recently added as an instructor of Jazz Trombone at CSU East Bay.
Steffen Kuehn (Trumpet)
German-born trumpeter and composer Steffen Kuehn must be considered as one of the rising stars in today's popular Jazz music with a unique voice that already appeals to many music lovers around the globe!
With the release of his latest album "Trumpop," Steffen Kuehn shines a new light on the Smooth Jazz scene. It showcases his affinity for R&B and Hip-Hop based tracks, swings with the moves of Classic Jazz and embraces the rhythm and spice of Latin music. "Trumpop" dives into Smooth Jazz with substance!
Since its release in March 2008, the CD "Trumpop" has been in the Smoothjazz.com Top 50 Indie Radio Charts for 23 weeks and has received thousands of spins and airplay nationally and worldwide (February 2009). "Trumpop" was in the running for a 2009 Grammy nomination for "Best Contemporary Jazz Album."
Steffen's unique writing also secured him a publishing deal with LA publisher Monica Benson's "Wild Pink Music" company. This resulted in the placement of the title track "Trumpop" in the Miramax movie "Birthday Girl," starring Nicole Kidman and Ben Chaplin. In addition, his original Latin Jazz composition "One for Louie" was placed in the USA Cable Network summer blockbuster series "Burn Notice," and aired in February 2009. Six out of the seven originals off the "Trumpop" release have also been signed to "Wild Pink Music."
Alex Murzyn (Tenor Sax)
Born in Honolulu, Hawaii, and plays Tenor sax, soprano sax, alto sax, flute, alto flute, piccolo, clarinet, bass clarinet. Holds an Associate of Arts degree from Berklee College of Music and has studied with Jean Harling, principal Honolulu Symphony; Michelle Caimoto, California Symphony; Classical Clarinet with Dianne Maltester, California symphony; Classical clarinet  Tony Striplen san  Francisco opera; Saxophone with Vic Morosco, Andy McGee, Joe Henderson. Bob Sheppard;
Performance credits include Dizzy Gillespie, Freddy Hubbard, Arturo Sandoval, Stanley Clarke, Huey Lewis and the News, Bobby Hutcherson, Sammy Davis Jr., Pete Escovedo, Ray Obiedo , Ray Charles, Johnny Mathis, Tito Puente, The musical  Rita Moreno "Life without makeup", The Musical "Chicago ", The Musical Color Purple, The Musical  Tales Of the City. Some  recordings credits as a sideman include Pete Escovedo, Flying high; Benny Rietveld, Mystery of faith; Rebecca Mauleon, round trip; Stu Hamm  live Stu  x2; The Stan  Kenton alumni band, Have Band will travel;  Contemporary Jazz Orchestra, Instruments Of Mass Pleasure.
Aaron Lington (Bari Sax)
Grammy-nominated baritone saxophonist and composer Aaron Joseph Lington (b. 1974) received his BM in music education from the University of Houston, Moores School of Music, and both his MM in jazz studies and DMA in saxophone performance from the University of North Texas where he studied with James Riggs. His performing and compositional credits include collaborations with the University of North Texas One O'clock Lab Band, the San Francisco Symphony, Maynard Ferguson, the BBC Radio Orchestra, the Count Basie Orchestra, Doc Severinsen, Bo Diddley, Joe Lovano, Jamie Davis, and many others. In addition, he has won awards for both his playing and writing from Downbeat Magazine, ASCAP, and was the 2003 recipient of the Sammy Nestico Award. He was named the 2011 "Jazz Educator of the Year" by the California Music Educators Association, and has been recognized multiple times in the both the Downbeat Magazine Critic's Poll and Reader's Poll. The San José Mercury News praises Dr. Lington's playing as "revelatory…he obviously relishes the beautiful, blustery bark of his instrument…" and that he possesses a "…finely honed melodic sensibility…" Josh Davies from the International Trumpet Guild states that Lington "…[shows] a true command of his instrument with a very studied and soulful essence." Cadence magazine declares "Lington and compatriots come up with a wonderful and totally American jazz sound, [resulting in] a solid mainstream set based on some sweet melodic improvisation."
In addition to his position as professor at San José State University where he serves as Coordinator of Jazz Studies, Dr. Lington is also a member of the faculty at the Texas Music Festival Jazz Institute, hosted by the University of Houston. Aaron Lington is a Saxophone Performing Artist for Selmer Saxophones and is a D'Addario Performing Artist and performs exclusively on Rico Reeds.
Colin Hogan
Colin Hogan was born in San Francisco to a very musical family.  He began studying drums in the 1st grade, started experimenting with the guitar in middle school, and finally discovered his true passion for piano in high school.  Colin was a member of the world renowned Berkeley High School Jazz Ensemble alongside "young lions" Ambrose Akinmusire, Justin Brown, and Thomas Pridgen while also studying with the Jazzschool's founder, Susan Muscarella.  He then attended Cal State East Bay (Hayward) where he earned a BA in piano performance.
Colin has performed on 5 continents playing everything from jazz, funk, salsa, and hip-hop to tango and Balinese gamelan. He has performed with many legendary jazz musicians including James Moody, Peter Erskine, Bob Brookmeyer, Roy Ayers, and Maria Schneider.  In 2004 he performed with electric bass revolutionary Larry Graham of Sly and the Family Stone at the California Music Awards which was nationally televised. Colin is currently involved in many projects including hip-hop/r+b group Dynamic, local jazz/groove/experimental collective the Jazz Mafia, international cafe music group Trio Zincalo and jazz/funk/fusion band The Hogan Bros. with brothers Steve and Julian. He currently lives in Oakland, CA
Dewayne Pate
Dewayne Pate is a graduate of the Musicians Institute in Los Angeles where he studied privately with Jeff Berlin and Bob Magnusson.Upon graduation in 1981, Dewayne continued to reside in Los Angeles where he found himself working with the likes of Steve Lukather, and steel-guitar players Sneaky Pete Kleinow and J.D. Manness.After living for two years in Los Angeles, Dewayne spent some time doing "pay your dues" road gigs, most notably with Bobby Freeman ( "Do Ya Wanna Dance", "The Swim").Since returning home to the Bay Area, Dewayne has worked with a wide array of artists including Huey Lewis & The News, Boz Scaggs, Maria Muldaur, Robben Ford, Jose Neto, Pat Benatar, Tracy Nelson, Pete Escovedo, Ray Obiedo, Bonnie Hayes, Charlie Musselwhite, Ruthie Foster, Henry Butler, Long John Baldry, Roy Rogers, Chris Cain, Duke Robillard, Betty LaVette, Rad, and others.His highly acclaimed instructional video, " The Art of Tapping" met with rave reviews and is now being sold around the globe.Dewayne has been a columnist for Bassics Magazine, and has recently toured with Grammy winning trumpet virtuoso Arturo Sandoval.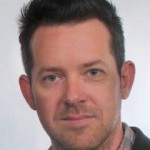 Niel Levonius, trumpet
Born and raised in the SF Bay Area, Niel has traveled around the world to perform with a diverse mix of leading jazz, pop, rock, and hip hop groups.
Equally comfortable in a intimate jazz club, a broadway show pit orchestra, or in front of a large arena sized crowd, he has played with internationally renown musicians Seal, Gladys Knight, The Temptations, The Four Tops, Deltron 3030, Chali2na (Jurassic 5), DJ Q-Bert, Clint Black, Michael Feinstein, Arturo Sandoval, Jon Faddis, Tom Scott, Sheila E., Louie Bellson, Dee Dee Bridgewater, Pete Escovedo, Tommy & Jimmy Doresy Orchestras, Cab Calloway Orchestra, Realistic Orchestra, Pacific Mambo Orchestra, and the Jazz Mafia Hip Hop.